Available in 250kg to 2000kg Capacity
Available in 250kg to 2000kg capacity MET-TRACK® workstation cranes provide class leading capacity and coverage. 
Ceiling mounted droppers support your crane with braces fitted to provide a completely rigid installation. 
The light weight and flexible design of MET-TRACK® workstation cranes ensures they can be mounted to the widest range of ceilings. 
If your ceiling has sufficient capacity to support your workstation crane ceiling mounting provides the ultimate solution. Ceiling mounted workstation cranes leave your floor area completely free of columns and other obstructions, providing unimpeded access to your work area.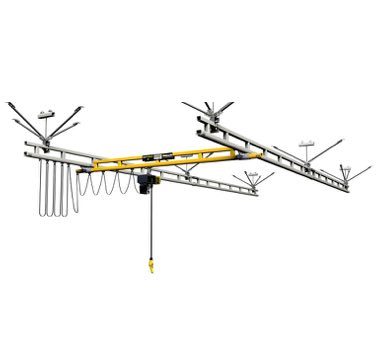 Ready for Powered Hoisting
MET-TRACK® Workstation Cranes are supplied with a hoist trolley as standard.
MONOCRANE supply an extensive range of Chain Hoists to suit your Workstation Crane System.
Available in 240V and 400V, MONOCRANE chain hoists feature extremely low headroom, fast hoisting speeds and overload protection as standard.
Download MET-TRACK Catalogue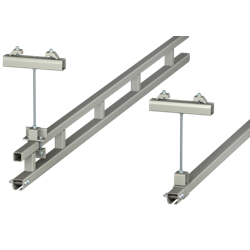 Ceiling Mount Dropper Rods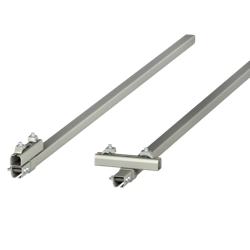 Ceiling Mount - Flush Mount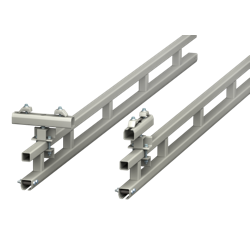 Ceiling Mount 1/2 Truss Flush Mounting
Various Crane Configurations Available
Various quantities and capacities of cranes can be accomodated on the same runway, providing flexibility and high availability of cranes to service busy work areas. The pre-engineered, modular design of MET-TRACK® workstation cranes also means your system can be easily extended or relocated as your business grows.

Single Crane Configuration

Mixed Capacity Cranes on same runway

Multiple Cranes may be kept apart utilising Bridge Buffers


Intermediate Runway Stops may also be utilised to keep cranes separated