10t to 200t
The CEAH hoists range closes out the top end of JDN Monocrane's hoist range. Heavy duty design provides a colossal 200t maximum capacity.
Supplied as an integral unit the hoist is simply installed onto any type of double girder crane. Like the AH range there is no need for complicated alignment of motors, gearboxes and rope drum, the fully machined frame ensures all critical alignments are factory set.
All units feature MONOCRANE's standard hoist technology with the option of Hyperspeed across the range for enhanced safety, precision control and productivity.
All Motor including Variable Speed Drive ("VSD") and Gearboxes are made by SEW Eurodrive with spare part's available locally in Auckland with 24 hour breakdown service.

Factors to consider when selecting your hoist
Capacity (tonnes)
Height of Lift (m)
Hoisting Speed (m/min)
Duty
Value Adding Technologies (see below)
Click here to understand duty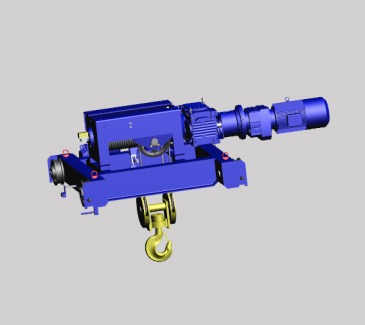 We offer a choice of standard hoist models that can handle 250kgs through to 200 tonnes depending on the load you are looking to lift. Each hoist is also available in a range of mounting options.
Both electric hoists use similar motors, brakes and controls so the main difference between electric chain hoists and wire rope hoists is in the design of the lifting mechanism. We also offer a compatible hoist for each crane so you wont need to go elsewhere. Our hoists are available in duty ratings from M3 right through to M8 for the most arduous of working conditions.